Een zonneluifel in Herenthout is de ideale oplossing voor jouw buitenleven. Want als de zon laat zich zien, en dan wil je natuurlijk optimaal van het buiten zijn genieten. Al doe je dat het liefst op een veilig, schaduwrijk schuilplekje. En hiervoor zijn onze zonneluifels precies wat je nodig hebt. Kom ons assortiment met eigen ogen bekijken bij
de dichtstbijzijnde verdeler
!
De voordelen van een zonnescherm in Herenthout
Dankzij je zonnescherm in Herenthout geniet je meer en langer van je tuin en terras. Er gaan dan ook heel wat voordelen gepaard met zo'n scherm.
Jij beslist wanneer je zonneluifel zichtbaar is. Of je nu kiest voor een domoticasysteem, een app of een afstandsbediening, met slechts één druk op de knop komt het scherm tevoorschijn.
Je bent beschermd tegen de zon. Zo spelen je kinderen veilig buiten en geniet jij onbezorgd van een namiddag op het terras.
Het scherm laat kou minder vlug door, waardoor jij je avonden op het terras verlengt.
Ga naar een verdeler in je buurt om het comfort van
een zonnescherm
zelf te ontdekken!
Je zonneluifel in Herenthout uittesten bij een verdeler
Een zonneluifel voor je woning in Herenthout kiezen, is geen eenvoudige taak. Welk model is het meest geschikt? Zwart, of liever wit? Hoe bedien je het? Bij onze lokale Wilms-verdelers krijg je op al je vragen een antwoord. In de showroom test je ter plekke onze zonneluifels uit, ontdek je de verschillende afwerkingskleuren en reken je op advies van de experten. Voor de beste service plan je een
afspraak
in op voorhand.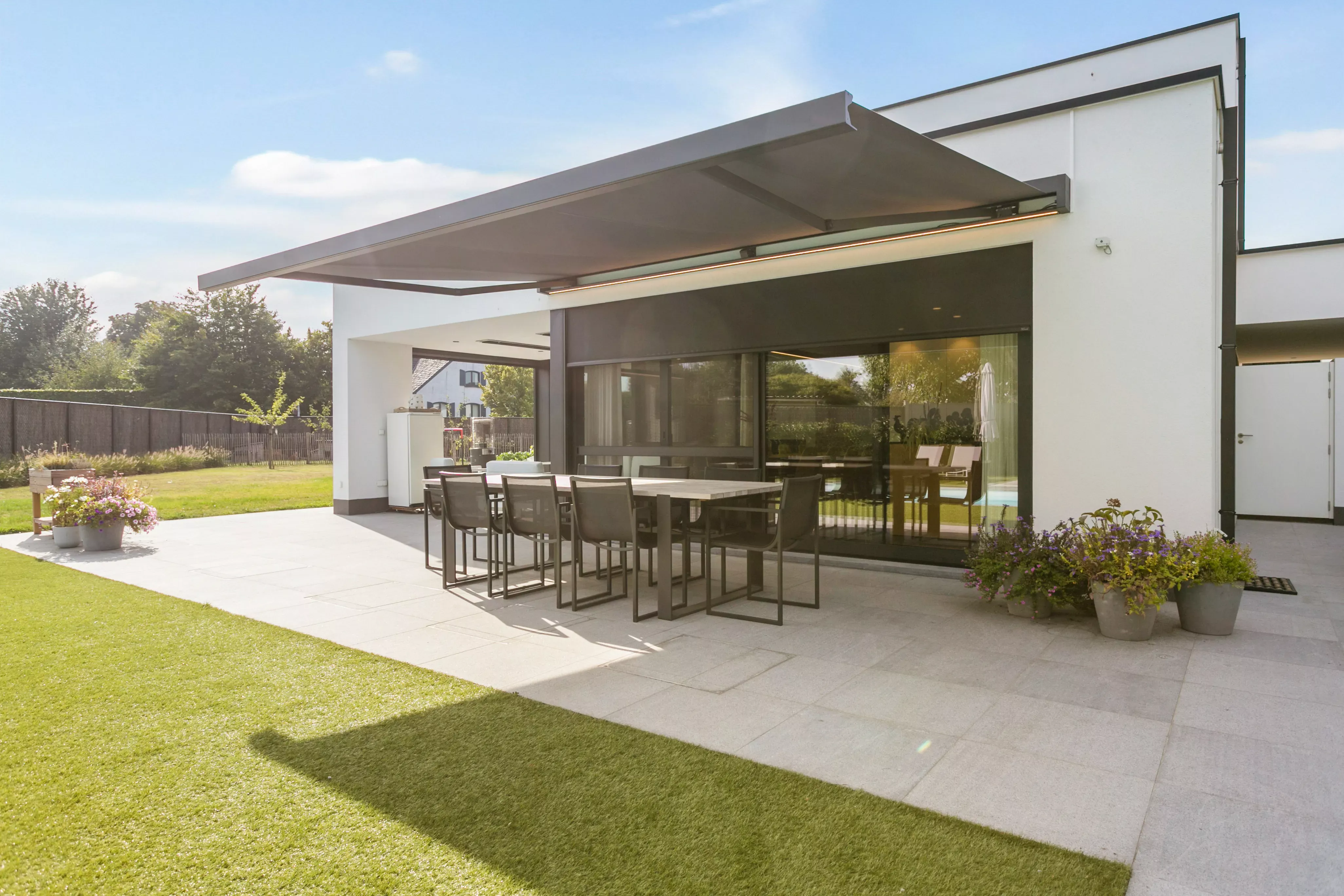 Kies uit drie types zonneluifels
Wilms heeft drie types zonneluifels in de aanbieding. Ze zijn alle drie ontwikkeld vanuit een sterk staaltje spitstechnologie in een strak design:
De 700LX heeft een scherp, recht ontwerp in plaats van een klassieke afgeronde vorm. Het design past bij iedere renovatie- of nieuwbouwwoning, van landelijk en rustiek tot modern en strak. Met de ingebouwde ledverlichting maak je het bovendien telkens weer gezellig onder je zonnescherm in Herenthout.
De 700X is een kopie van de 700LX, maar zonder ledverlichting.
Voor kleine of middelgrote terrassen is er ook nog de 500X.
Geen idee welk type zonneluifel in Herenthout geschikt is voor jouw woning? Geen nood! Je kan terecht bij
een verdeler in je buurt
voor al je vragen.
Ten volle genieten van je tuin en terras? Met de Wilms zonneschermen doe je dat volledig zorgeloos. Je bent namelijk beschermd tegen schadelijke uv-stralen. Je hebt slechts één druk op de knop nodig om schaduw te creëren met je zonneluifel in Herenthout. Jij kiest dus wanneer het scherm zichtbaar is. Ontdek alle voordelen van onze zonneluifels,
zonweringen
en
rolluiken
in de showroom van een lokale Wilms-verdeler.