Maak jouw buitenleven in Balegem compleet met een zonneluifel. Want natuurlijk wil je maximaal van het buiten zijn genieten wanneer de zon zich laat zien. Maar bij voorkeur wel op een plekje dat veilig en schaduwrijk is. Het aanbod zonneluifels van Wilms is precies wat je zoekt. Download
onze brochure
en werp alvast een blik op het aanbod!
Het voordeel van een zonnescherm in Balegem
Je geniet dankzij je
zonnescherm
in Balegem meer en langer van je tuin en terras. Er gaan dan ook heel wat voordelen mee gepaard.
Jij kiest zelf of je zonneluifel zichtbaar is of niet. Of je nu kiest voor een afstandsbediening, een app of een domoticasysteem, met slechts één druk op de knop laat je het scherm tevoorschijn komen.
Je bent beschermd tegen de zon. Zo kunnen je kinderen veilig buitenspelen en geniet jij van een middagje ontspannen op het terras.
Je voelt door het scherm de kou minder vlug, waardoor je 's avonds langer geniet van een avondje met vrienden of familie op het terras.
Wil je al even wegdromen bij de beschikbare zonneluifels in Balegem? Download dan nu de brochure.
Onze types zonneluifels in Balegem
Bij Wilms vind je drie types zonneluifels terug in het aanbod. Elk type is ontwikkeld vanuit een sterk staaltje spitstechnologie en heeft een strak design:
De 700LX heeft een scherp, recht ontwerp in plaats van een traditionele afgeronde vorm. Zowel voor renovatie- als nieuwbouwwoningen in elke stijl is dit een ideaal design. Bovendien creëert de ingebouwde ledverlichting onder je zonnescherm in Balegem een gezellige sfeer, elke keer opnieuw.
De 700X is een kopie van de 700LX, maar zonder ledverlichting.
Voor kleine of middelgrote terrassen is er ook nog de 500X.
Graag een zonneluifel aanschaffen, maar geen idee welke geschikt is?
Onze brochure
voorziet je van heel wat inspiratie.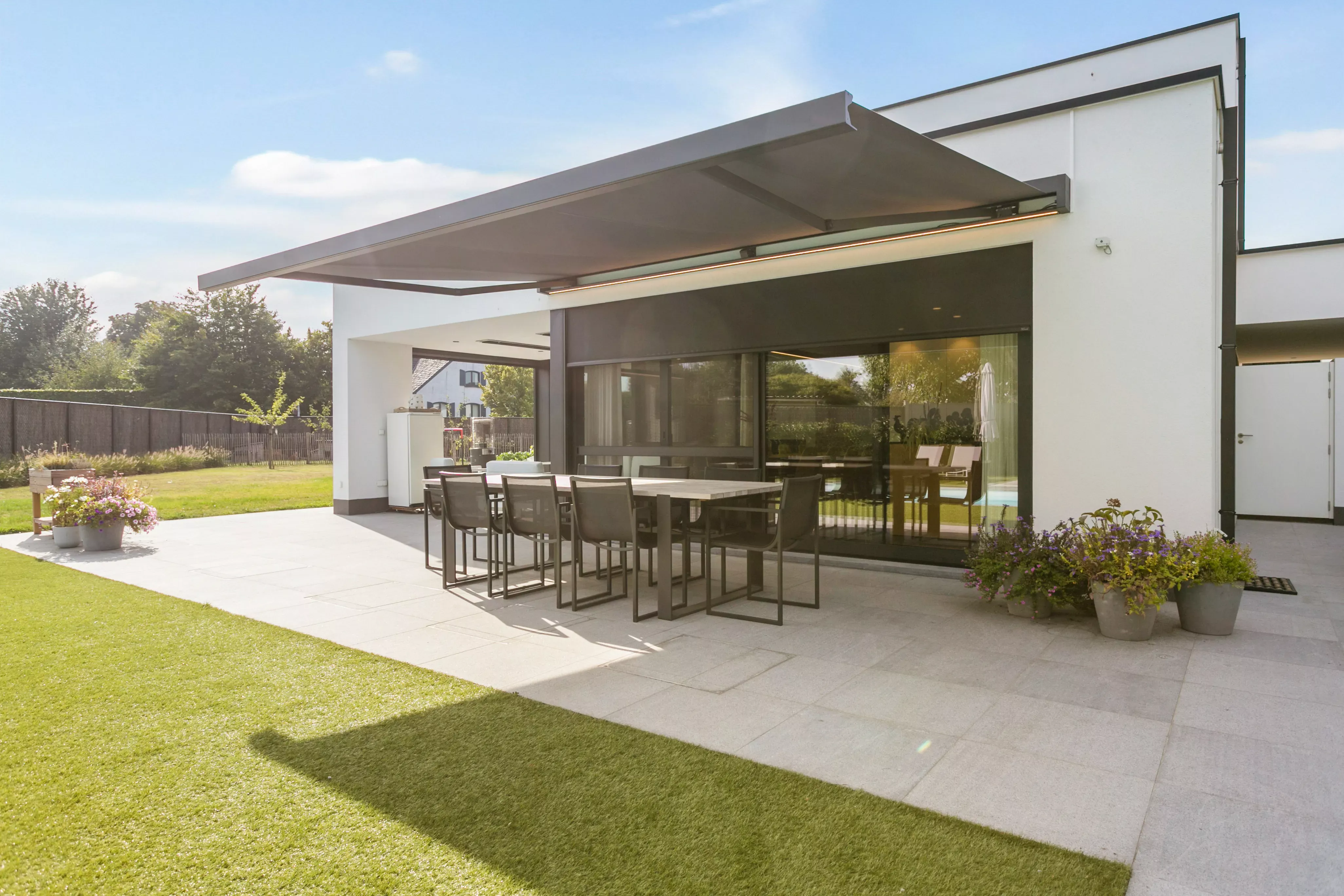 Inspiratie opdoen voor je zonneluifel in Balegem
Het is geen makkelijk opgave om een zonneluifel voor je woning in Balegem te kiezen. Welk type past het best bij je huis? Wit of zwart? Hoe zit het met de bediening en sfeerverlichting? Alle nodige informatie vind je in onze
brochures
. Je krijgt er een antwoord op je vragen en ontdekt er ons productaanbod. Ontdek de mogelijkheden voor jouw buitenleven. Download hier de brochure!
Maximaal genieten van de zon op je terras en in de tuin? Dat doe je nu helemaal veilig met de Wilms zonneschermen. Geen zorgen over schadelijke uv-stralen. De zonneluifel in Balegem schuift uit met slechts één druk op de knop, waardoor jij snel en gemakkelijk schaduw tevoorschijn tovert. Het is een elegante oplossing, waar jij de volledig controle over hebt. Bekijk ons aanbod zonneluifels,
zonweringen
en
rolluiken
, download de brochure!